We don't believe anyone in our community should have to face going hungry.
That's why we're working to combat poverty and hunger, we take good quality surplus food from individuals and across the food industry and redistribute it by providing three days' nutritionally balanced emergency support to local people who are referred to us in crisis.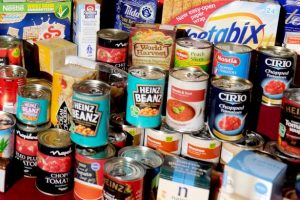 How we do it

Providing emergency food to people in crisis.
People go hungry for various reasons including losing their job or receiving an unexpected bill or worse. A simple box of food can make a huge difference to their outcomes, with food banks helping prevent housing loss, crime, family breakdown and mental health problems.
Food is donated
Local Super Markets, businesses, Schools, churches,  and individuals donate non-perishable, in-date food to us.
Food is sorted and stored
Volunteers sort food to check that it's in date and pack it into boxes ready to be given to people in need. Many people give up their time to volunteer at All Stars Food Bank.
Professionals identify people in need
All Stars Food bank partners with a wide range of care professionals such as doctors, health visitors, social workers and police to identify people in crisis and issue them with a food bank voucher.
Clients receive food
Food bank clients bring their voucher to All Stars where it can be redeemed for three days' emergency food. Volunteers meet clients and are able to signpost people to agencies able to help solve their longer-term problems.
Help us get food to vulnerable people in our community
Demand for food has skyrocketed, with the coronavirus pandemic pushing thousands of people into financial hardship, with many more families struggling to put food on the table this year. We rely on voluntary donations to fund our vital work providing compassionate and practical help to children and families in poverty.
We urgently need your help to deliver more healthy, nutritious food to those less fortunate in our community during this crisis.
Donate Food
Our Food Bank relies on your support.
The majority of the food distributed by All Stars Food Bank is donated by the public, that's why your food donations are vital to our ability to give everyone referred to us a balanced and nutritious three day supply of food.
Our shopping list shows the food items that we need right now. Unfortunately we cannot accept donations of clothing or toys, chilled or frozen foods or items past their best before date. Donations are accepted at our food bank on Tuesdays and Saturdays between 1pm – 5pm , please call 0747 542 6327 or email us at allstarsyouthclub.org@gmail.com to arrange a time you would like to drop the items off.
Donate Money

Reaching out for help when you are in crisis can be a scary and overwhelming thing. That is why our food bank offers more than a place to collect emergency food. Our volunteers give everyone who walk through our doors a warm welcome, taking the time to talk through clients needs in a safe environment, making sure that people leave with not just food, but also an action plan.
You don't have to do something big to have a life changing impact. By making a regular donation you will be making a real difference because every donation we receive helps transform lives and enables us to continue providing support and guidance to people in crisis.
If you would like to make a donation to support All Stars Food Bank please use the link below.
You can also send us a cheque (made payable to All Stars Youth Club Limited), and deliver or post it to us at All Stars Boxing Gym, 576 Harrow Road, London W10 4RH Thank you!
Fundraising for us
There are several ways that you can get involved to support us and help raise money.
Whether it's with your friends, in the office, at school, as a family, or just by yourself… there are so many fun ways to support our work!
Please do get in touch with your ideas, call 0747 542 6327 or email us at allstarsyouthclub.org@gmail.com
Shopping List – Items we need:
Long life milk – URGENT!
Tinned veg – URGENT!
Tinned fruit – URGENT!
Shower gel – URGENT!
Pasta
Baked beans
Cereal
Tinned tomatoes
Puddings & custards
Long life juice
Large nappies – size 5 & 6
Deodorant
Razors & shaving foam
Washing up liquid
(sorry we are not able to accept baby formula or bleach)
---
MAKE A REFERRAL
We currently only serve the Westminster area.
Please email us to request a referral form if you don't already have one, once you receive the form please fill out the form completely in order to provide all of the information needed. We can only provide a home delivery when the person cannot afford food, if they can afford food, please find alternative support using the council based services.
If you are passing on a request from someone you are not supporting directly, please only refer the person for 1 week, they will then need further referrals for further packages.
If you are a support worker/adviser to the person being referred you can refer them for more than 1 week.
If your referral needs urgent attention Download the referral form
For more info please give us a call on 0747 542 6327 or email us at allstarsyouthclub.org@gmail.com